Pot episode a high for Improvement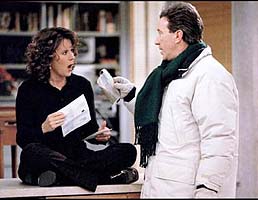 Modern parents Tim and Jill Taylor are rocked by the revelation that one of their clean-cut boys is experimenting with marijuana in tonight's thoughtful Home Improvement (ABC, Tuesday), 9 ET/PT ( out of four)
Although it tackles a serious subject, Home never sacrifices its sense of goofy fun. More important, it doesn't preach. Rather, it strikes an impressive balance between humor and drama without leaning too heavily in either direction.
After discovering a bag of marijuana in the back yard, Tim and Jill wonder which of their three boys hid the stash. When neighbor Wilson expresses disbelief that "any of the boys are experimenting with cannabis," Tim counters, "My boys aren't flesh eaters!"
Tim Allen might be the only actor on television who can deliver such lines without sounding like an idiot.
Oldest son Brad (Zachery Ty Bryan) is revealed to be the culprit, and a serious conversation follows, in which the boy accuses his parents of being hypocrites. "Are you telling me you never smoked weed?" he grumbles. Tim didn't, but Jill (Patricia Richardson) can't say the same.
Often, when a sitcom tackles a serious subject, the issue at hand is tidily resolved with a heartfelt apology, a hearty hug or an "I love you/I love you too" exchange. Home takes a more realistic approach, avoiding them all.
Among its other accomplishments, this episode reminds us that family-themed comedies are so out of favor, and quick cancellations so in style, that we may never again have the opportunity to get to grow with (and learn from) a family like the Taylors.
That is another serious issue television needs to address..
By Ed Martin, USA TODAY